Ryan Hicks
First Time pass!
A great drive today resulted in an excellent first time pass for, Ryan Hicks. Well done Ryan. Best of luck for the future. Safe driving. Richard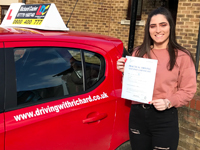 Jade Masters
First Time Pass!
A fantastic drive from Jade resulted in a first time pass. A thoroughly deserved result, well done Jade. Safe driving. Richard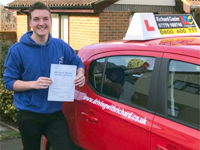 Ben Cross
First Time Pass!
Congratulations to Ben Cross for passing his driving test, first time. A fantastic drive Ben and a thoroughly deserved pass. Safe driving. Richard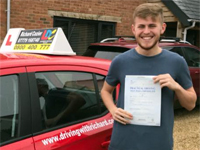 Harry Cudd
First Time Pass!
Congratulations to Harry Cudd for passing his driving test, first time. A great drive and a thoroughly deserved result. Safe driving. Richard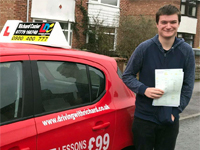 Luke Weir
First Time Pass!
Congratulations to Luke on passing his driving test with just one driving fault. A fantastic drive Luke, well done. Safe driving. Richard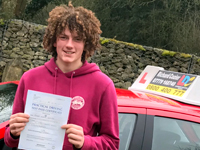 Kieran Costar
First Time Pass!
A super drive from Kieran resulted in a first time pass with just 1 fault - fantastic! I hope the label 'designated driver' does not stick! Best of luck, Kieran. Safe driving. Richard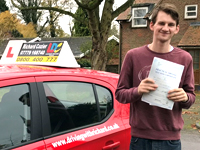 Scott Ellis
First Time Pass!
Well done to, Scott Ellis, for passing his test first time! A great drive Scott. Hopefully that journey to Uni will be even easier for you now. Safe driving. Richard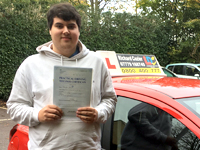 Daniel Price
Congratulations to Daniel Price.
Happy driving days are ahead for Daniel who passed his driving test at the Cowley Test Centre, Oxford. A fantastic drive with only 1 minor recorded. May I wish you success with your college course as a trainee Motor Mechanic. It's been a pleasure, Daniel. Safe driving. Richard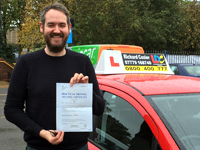 James Cryer
Congratulations to James Cryer
James passed his driving test at the Cowley Driving Test Centre, Oxford. A great drive, James! It really has been a pleasure working with you. Wishing you many years of happy and safe driving. Richard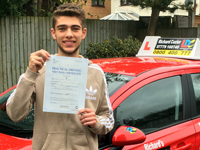 Luke Beales
Well done to Luke Beales
Huge congratulations to Luke for passing his driving test. I'm sure you'll be keen to drive that gorgeous red Fiesta of yours, Luke, that's been waiting for you in the drive! "A massive thanks to Richard for helping me through my driving! I cannot fault the system he uses, it's very effective and efficient. On the whole I strongly recommend Richard as the whole experience was very positive!" Thank you for your kind words, Luke. Safe driving.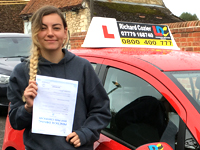 Bronte Cozier
Fantastic drive, Bronte.
Congratulations, Bronte Cozier, on passing your driving test. A near perfect drive (just 2 driving faults). I am very proud. This should make traveling to University easier for you. Good luck for your second year at Uni. Drive safely. Dad xx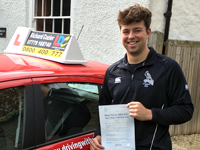 Rory Pearce
First Time Pass!
Richard is a brilliant driving instructor who helped me to pass my test first time. He is a very patient and supportive instructor who built my confidence up behind the wheel. The lessons are well structured and help you to improve your competence quickly whilst still having fun. I can't recommend Richard enough. Rory Pearce Huge congratulations to Rory Pearce for passing his driving test, first time! A fantastic drive and a well deserved result. Good luck finding your first car. Safe driving.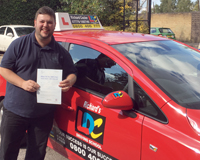 Jacob Crowley
1 Week Intensive Course
Congratulations to Jake on passing his test in Oxford. A great drive! It's been a pleasure working with you over the week, Jake. Safe driving. Richard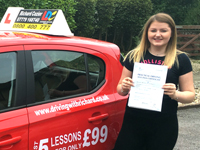 Georgia Boodell
First time pass for Georgia Boodell!
Huge congratulations to you Georgia; a thoroughly deserved result which reflects all your hard work. Enjoy your independence. Safe driving. Richard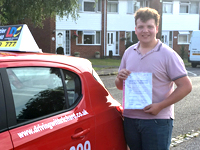 Cameron Winfield
Passed first time!
Excellent result, Cameron, I'm really pleased for you. No more train journeys to college! Best of luck for the future. Safe driving. Richard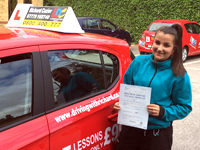 Tee Koudoua
Congratulations Tee
A well deserved pass, Tee, and it could not have come at a better time for you! I hope you get the new job opportunity and promotion you seek. Best of luck for the future. Drive safely.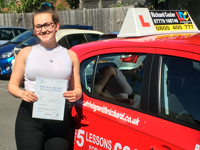 Eve Freeman
Passed first time!
Huge congratulations, Eve! A well deserved pass with only two minors! You had the added pressure of passing before your sister & you did it! You can now travel up and down the country to visit you friends without relying on coaches and trains! All the best for the future.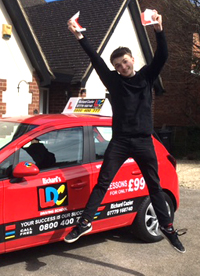 Toby Lindenbaum
Excellent result Toby, well done!
Richard is an excellent teacher who always made me feel comfortable behind the wheel and taught me the skills and techniques to pass my test with ease. The lessons were very well structured. Richard was great at explaining things and making sure I could do everything before my test date. The car was ideal to learn in, easy to use and I felt in control at all times. Overall, I would highly recommend learning with Richard, a really great driving instructor.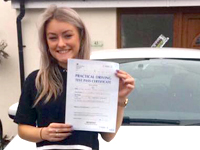 Elodie Hicks
Well done Elodie!
I passed my test today. Big thank you to Richard who helped me a lot! Definitely recommend him to any learner driver, he is very patient and makes you feel comfortable!